Illamasqua and blackface - a study in poor customer relations
5:11 AM
*EDIT* Trigger warning for racism, swearing, angry gifs. So, so many angry gifs.
Today's post derails from my normal review-based content, but it is something I feel very strongly about. Skip this if you want, but honestly, I would much more prefer you read ahead for my thoughts on a recent incredible cock-up by a beauty brand. To preface - this is not me acting as a mouthpiece for the black community. I'm literally the whitest person ever, and it would be not on for someone of such white privilege to hijack other personal experiences and diminish their meaning. That is not my place. This is the retelling of a beauty brand royally fucking up, and their continued offending of customers.
You might have heard about Illamasqua's Christmas campaign with the tagline "I'm not dreaming of a white Christmas". Cute, right? There's a lot they could do with this, and I've always been a fan of their products.
Then I saw that they had chosen this image to represent the campaign on their Australian Facebook page.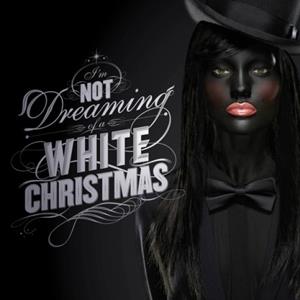 Remind you of anything?
Stylised, sure, but a definate example of blackface. The black make-up, exaggerated lips, formal tux, bowtie and top hat. All of these things feature heavily in blackface, historically used to belittle, mock and discredit black people, who you may remember were also enslaved and treated miserably simply because of their skin colour. To use blackface is a terrible thing to do. To exploit the history of blackface to sell a product is even worse.
If you don't know the history of minstrel, please don't claim ignorance. Even Wikipedia has a decent description.
I immediately wrote a comment beneath the picture (which was being used to garner competition entries) to say I was disappointed in Illamasqua's choice to use the photo due to its very strong resemblance to a hateful stereotype. I was joined by more voices asking the brand to take the image down and apologise. We were then joined by those who were defensive of the brand.
These defenders fall into several groups, and I'll describe the two most vocal here.
Firstly those who understand that people are offended by it, but claim Illamasqua as an entirely innocent party. They may have recognised those images as racist, but insisted the brand didn't mean to offend, and it was an accident! If this is your opinion, I'd like to direct you to this well written piece, that helps explain that intent does not matter, it's how the action is perceived. You're almost there, but not quite.They may try to explain blackface as something we need to "get over it" as it happened soooooo long ago you, guys. To that I say, it's not that long ago at all, racism is alive and well and we simply cannot "get over it", and lastly images like this prove blackface is still being used today.
Others called those calling the brand out too sensitive, that we needed to harden up, some said as "art" the Illamasqua campaign was above critique and yet more said that they don't see race and anyone who finds anything racist must be the racist. These arguments are severely damaged, incorrect and misleading. They also make my head hurt.
Then there are those who most likely have a Southern Cross tattoo, sport a 'We grew here, you flew here bumper sticker' and believe they are victims of that magical beast "reverse racism". They make me facepalm so hard I can't tell where my face starts and my palm ends. No arguing with these mouthbreathers. They don't even deserve Internet access.
Illamasqua then made the situation worse by failing Internets 101, and deleting the entire thread. Because it's the Internets and people tend to keep records of things that piss them off, here's the thread, archived in full. In the interests of full disclosure, I'm the comments in orange. Go ahead and read through, I can wait.
Illamasqua then appeared to do nothing. No response, no apology. Nada. At this point, I said, fuck it, let's bring in the big guns. I tipped the now-deleted Facebook thread to Jezebel.com, who immediately wrote on it because sometimes they can be rad. This was picked up by Huffington Post, The Daily Mail, Perez Coco, Fashionista and a ton of blogs.
Illamasqua then released this statement, which is still active and filled with slightly more pissed off comments that I'd love for you to scroll through.
"We thank and acknowledge your comments regarding the above image. Obviously it was never our intention to cause offence; Illamasqua has always celebrated the right to self-expression and we continually push creative and artistic boundaries, priding ourselves on working with models of many ethnic backgrounds to reinforce this point. Alex Box, Illamasqua's Creative Director, has emphasised that this campaign is about colour ON the skin, not colour OF the skin, depicting polarity between the two images (both images are the same model) not race."
First, the faux-pology. Yuk. If they "thank and acknowledge" the critical comments, why were they deleted? Why were they not responded to comments directly? Why haven't they apologised for offending and degrading a very large group of people with a harmful statement? Why, why, WHY would they repost that very image that caused so much hurt?
It boggles my mind that something like this can happen and rather address the issue by apologising, removing the clearly offensive material and committing to a race relations re-education plan, Illamasqua chose to take the 'we didn't mean to offend you' route, in a scenario where intent is completely irrelevant. Again, the link above explains it far more beautifully than I ever could.
This non-response means NOTHING, but does a fab job at showing how little they care about customer's feelings and feedback, as well as y'know not being all racist. Total damage control fail.
Now to the image! This time around our minstrel friend is joined by a lass all in white. Illamasqua explains that it's the same (white) model used for both photos. Which leads me to ask, why are her lips cartoonishly inflated in the black make-up photo?
As you can see, the pale top lip is pumped up, again recalling the make-up of a minstrel. Is this really accidental?
That it obviously is high fashion, and fashion is above criticism. Fuck no, it isn't. I'm pretty Dolce and Gabbana, Vogue Italia and French Vogue know this too well after their own controversies.
That Australia doesn't have blackface here! This isn't America!
Seriously, back away from the keyboard before you do some damage. We are global citizens, and that means realising your actions don't occur in a vaccum. We accept American TV, pop culture, food, fashion and all that, but we refuse to acknowledge their history. That's some A-grade fuckery. Do we not remember this? Let's try real hard not to keep painting Australia of the backwoods of the world. I know we're better than this.
To conclude, and to all my readers, I hope I haven't been lecturing you. That is not my intent. I only hope to be an ally against racism. I am not looking for drama or to shit-stir. Nor am I a voice for people of colour. That is not my place, as their experiences are their own and not mine to claim or exploit. The best I can hope to do is to stand and say "That's not cool!" when something is offensive or degrading, and listen and learn from those directly affected. This post is based around how poorly a brand can react to customer feedback, and what not to do. I'm not going to further discuss the shades of racism in the offensive campaign, as it's simply inexcusable.
I know people have an emotional connection to cosmetics companies, because make-up IS personal. We live and die and grow with our favourites. However, it is clear here that Illamasqua does not love you, the customer, back. They will happily vilify and degrade an entire race, using a hate-charged history against them. Illamasqua will not listen to customer complaints, or apologise when an image from their advertising campaign obviously causes so much offense. They will miss opportunities to make it right to their fanbase in exchange for a quick buck and the exposure controversy brings. I used to like Illamasqua's range and advertising style. I even reviewed their products, and recommended their Skin Base range. I like the people I've met who work for them and always thought the company was just dandy.
However, this breach of customer's trust and basic fuck y'all attitude towards not apologising for an offensive campaign means that I have not desire to purchase anymore of Illamasqua's products. They have lost my money, my recommendations and my respect.
Before I hit publish, here's Illamasqua's latest non-apology, posted on their global FB pages.
"

Illamasqua is an independent British colour cosmetics brand founded on the principles of fairness, self-expression and delivering customers professional quality make-up. We embrace the diversity of humanity and feature people of all colours
, ages and genders in our campaigns.

Illamasqua has received some negative attention in regard to one particular image from our Christmas 2012 campaign launched earlier this month. It features a model theatrically painted white juxtaposed to the same model painted black. The model painted black has been interpreted by some as "black face". This was certainly not our intention nor inspiration.

Given that our objective with this imagery was to be playful, striking and fresh with the creation of mirror images in white and black, using colour ON the skin it is very saddening that those making negative comments are focusing on colour OF the skin. The colour of the skin didn't come into it at the time we created the imagery so we are shocked by the cynicism behind some of the comments.

The Huffington Post wrote about our campaign yesterday and a lot of the comments were very positive...

"Super dark girls look great... As such if a woman who knows this wants to achieve that sort of look, it's cool ... She can wear darkening make-up... It's her body (as the feminists love to say) ... I say, go for it!"

"Oh come on, this isn't racist. I'm a black woman saying this. It's obvious this is art. There's more than enough real racism in this country to deal with without attacking legitimate art"

In addition to the statement issued yesterday, we again acknowledge your comments regarding the Christmas imagery and thank you for taking the time to comment on our Facebook page."
Love how they yet again failed to apologise, cherry-picked only the positive comments from a Huffington Post article that calls the image offensive, ignored the complaints that far outnumber them and AGAIN served this up with the offensive image. You guys, I can't even with this fresh new fuckery. *rage-stroke*