The Aromatherapy Co. Therapy Range Natural Soy Candle in Wild Mint and Bergamot - review
1:20 PM
I have a slight obsession with candles. It can best compared to how I have a slight obsession with gifs. Or how season one Willow had a slight obsession with Xander and hideous outfits.
Overalls?! Oh honey, no.
I'm guaranteed to have a candle burning while I'm at home, and um, maybe sometimes when I'm not home because I am forgetful (THIS IS NOT RECOMMENDED).
So given my love for everything with a wick, I was happy to try out this soy candle from The Aromatherapy Co., a New Zealand company whose yummy hand creams I've previously tried.
It's Wild Mint and Bergamot scented and smells ahhhh-mazing. Not too strong, not too sweet and a good counter to all the baked goods themed candles I normally make a bee-line for. The mint is like fresh leaves crushed in your palm, not the mouthwash variety, and if you like Earl Grey, the bergamot note will be your kind of deal.
Think of it as a in-between seasons scent, perfect for when you're tired of the cinnamon and woodsmoke scents, but aren't quite ready to break out the tropics yet.
I also dig the brand's eco vibe, using soy and plant wax, and donating 1% of their annual profits to environmental organisations through 1% FOR THE PLANET. Does it count as doing my part for the planet if I hoard keep the glass to reuse for make-up brush storage?
The Aromatherapy Co. Therapy Range Natural Soy Candles retail for A$29.95 and comes in eight different fragrances.
Completely unrelated to candles, but I was watching 'Once More, With Feeling!' while blogging and had the biggest "duh, Michaela" moment when I saw this scene.
It's like, oh hai oral sex! I'm so oblivious, I thought they were just singing.
Annnnnd once again I somehow make a totally innocent review all about sex and pop culture. You're welcome.
Disclaimer: This product was provided to me for consideration by The Aromatherapy Co. They have in no way influenced my review and opinions are my own. It is also my opinion that Anya is the cutest of the Scoobies, with her lips as red as rubies, and firm and supple....tight embrace!. See my Disclaimer for more sexy details.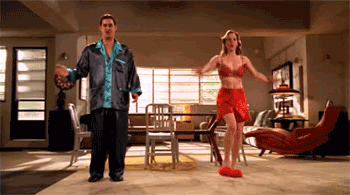 LOOK AT ME, I'M DANCING CRAZY!