Howdy! It's been a while in between drinks, I know….. to the point where I forgot my Blogger password, and missed that bit where my image host changed from free to subscription (
so please excuse any missing images until I hunt down the source pics again
). Forgive the not-at-all high quality pics, I'm stumping these up with the finesse and clarity only an oft-dropped iPhone 4 can offer.
At the moment, I'm straddling (heh) that line between writing for my old country and my new one. Hopefully I'll be able to give you content that is relevant to both of my homes.
I'm going to get back into the swing of things with a nifty new product review of something that's available in both Australia and the Middle East (I heart you, international shipping).
Babe Scrub is a newish brand that's Aussie based, with a super simple concept.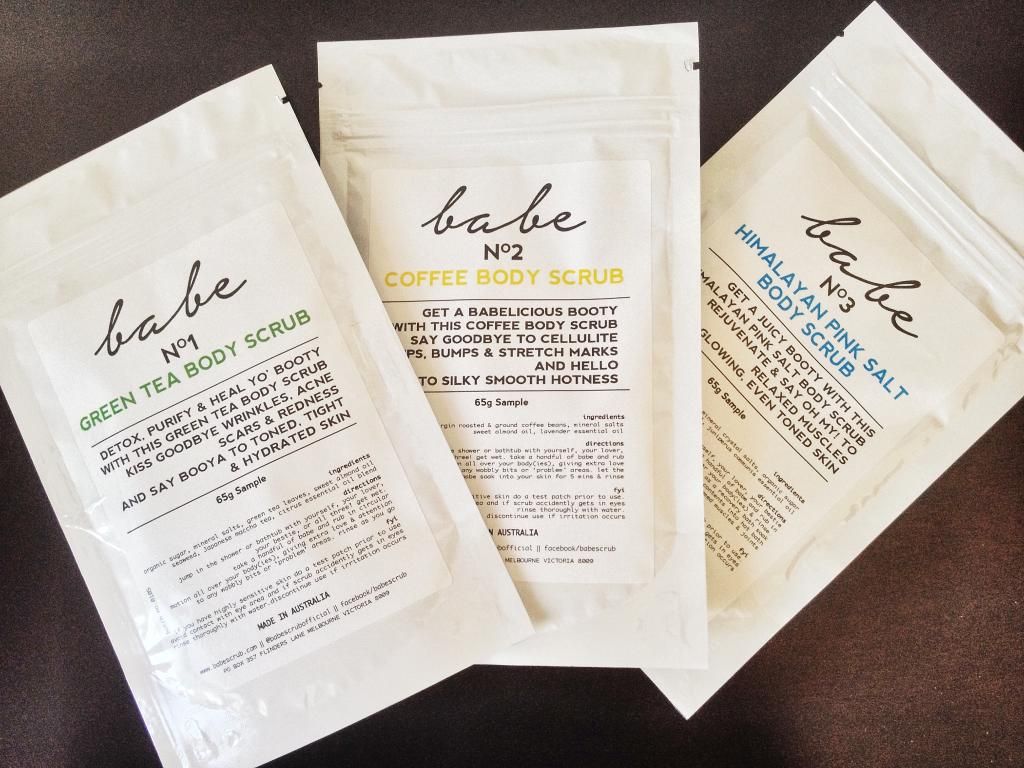 The scrub comes dry, in a zip-lock style sachet. Just hop in the shower and add water to a small handful use on wet skin and buff away in a circular motion to work away rough skin.
The line currently has three versions.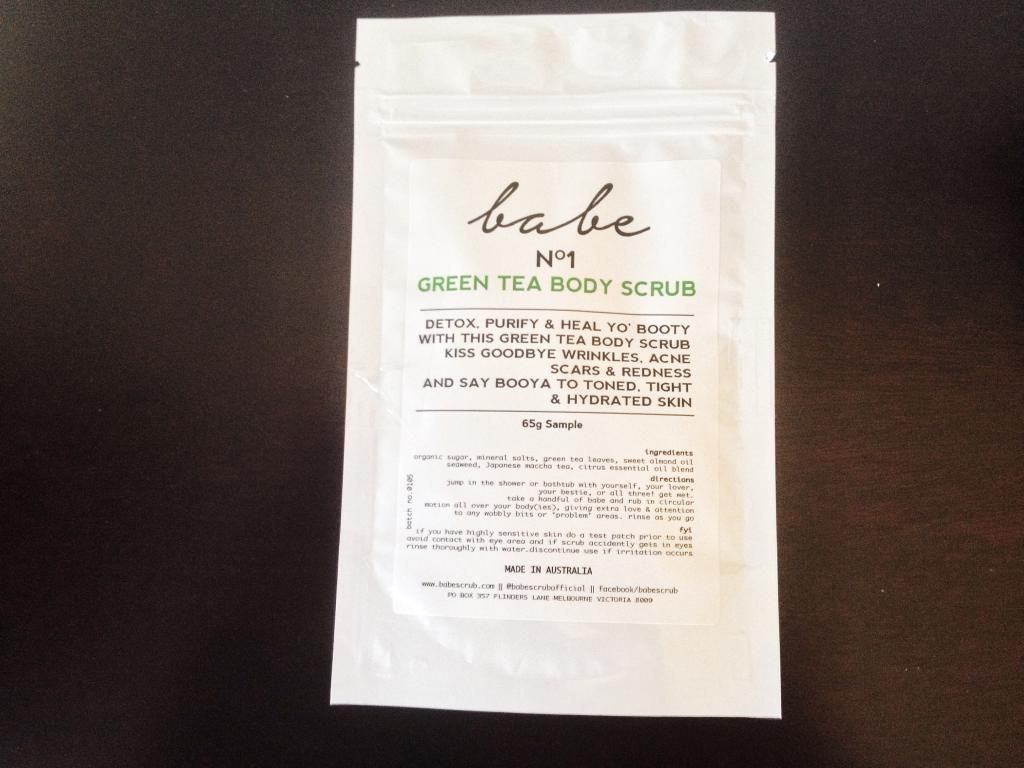 No.1 Green Tea Body Scrub
This one both looks and smells like matcha powder. I do as the instructions dictate, rubbing a small scoop all over and leaving it to rest while I attend to the rest of my shower routine...
…before rinsing off. I feel super smooth, and there's no residue making this one an excellent choice to prep for a fake tan application.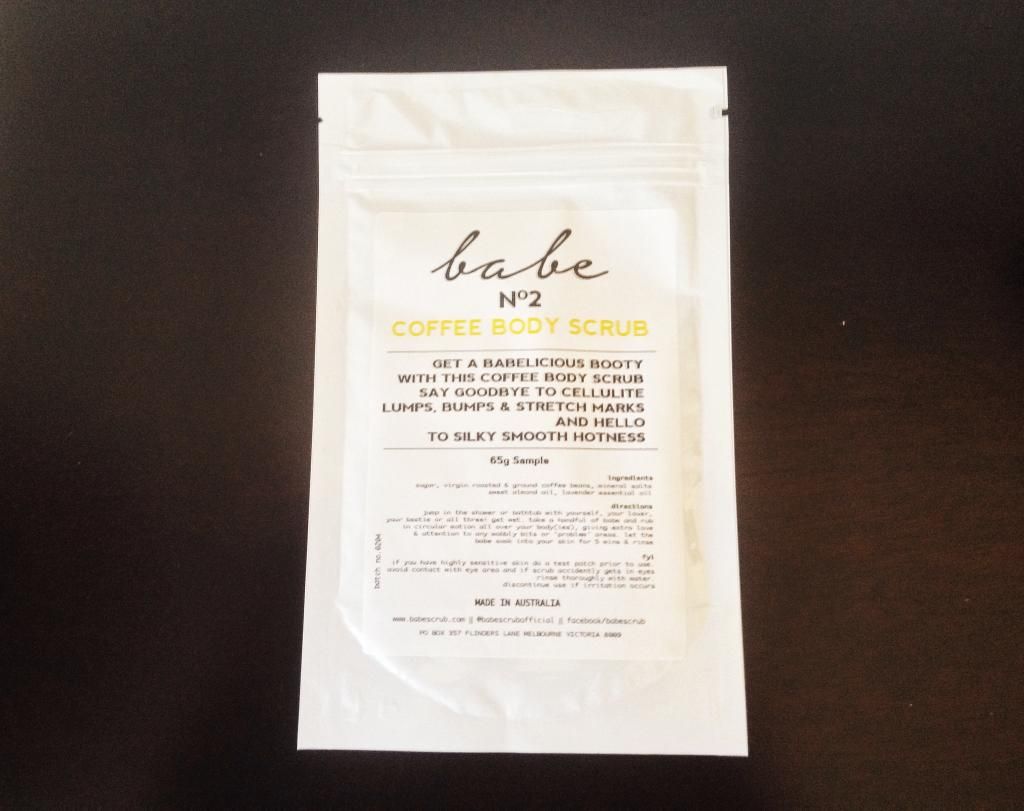 I largely suspect this one is made of coffee grounds and salt mixed together, but it smells amazing, so I don't really care. I rubbed it on my face too - very gently! - and may have accidentally got some in my mouth. A+ salty coffee taste, would consume again.
I'm not sure if it's ridding me of my cellulite, but that's mostly because I absolutely refuse to check out the backs of my thighs. Ignorance, bliss etc etc.
Watch out when you apply and rinse this one, as I flicked ittle bittle pieces of coffee all over the bathroom without even realising it.
No.3 Himalayan Pink Salt Body Scrub
This is a sweet and salty smelling mix, made up of salt, sugar and a splash of almond oil and some essential oils. I've been digging into this one after my early morning gym sessions (I KNOW, RIGHT. WHO AM I?) and it's really helped take my muscles down a few notches from "I'm dying, I'm dying, oh no" to "I'm dying, but also feeling wetter and more relaxed about it".
This is a rougher scrub, and I would really not recommend using it after shaving, because you're sure to have nicked something, somewhere, like that arsehole space behind your knee, which guarantees you working a big chunks of salt into it like two minutes later. Not cool.
But aside from that, it does a good job smoothing away dead skin, and doubles as a bath soak.
Do I rate it? I'd liken these to a instant version of a homemade scrub - instead of measuring out and mixing something up yourself, you have the option of buying Babe Scrub all ready to roll. It does the job well, and is pleasant if not a bit messy to use. Plus it ships internationally!
Babe Scrub retails for AUD$21.95/Dhs76 for 200g from their website.